The Story of a Brand: Blockbuster Video
Be Kind, Let's Rewind
Many people remember how Blockbuster went from one of the largest movie rental businesses in the world to a single franchise store in Oregon. They lived through the rise of the video rental chain to its demise, too.
We remember going to the video store on the weekend to pick up movies. We also remember late fees, Make it a Blockbuster Night, and "Be Kind, Rewind" stickers on rental tapes. You may still have a membership card tucked away in a wallet or on the refrigerator at home.
Some may remember when they broke down and bought a DVD player because new movies were not on VHS tape.
According to the film The Last Blockbuster, there is a single store left in 2021. In Bend, Oregon. Ironically, the documentary streamed on Netflix.
How well do you remember the rise and fall of Blockbuster? This is the story of how a brand and its recognizable logo went from everywhere to a single storefront in less than three decades.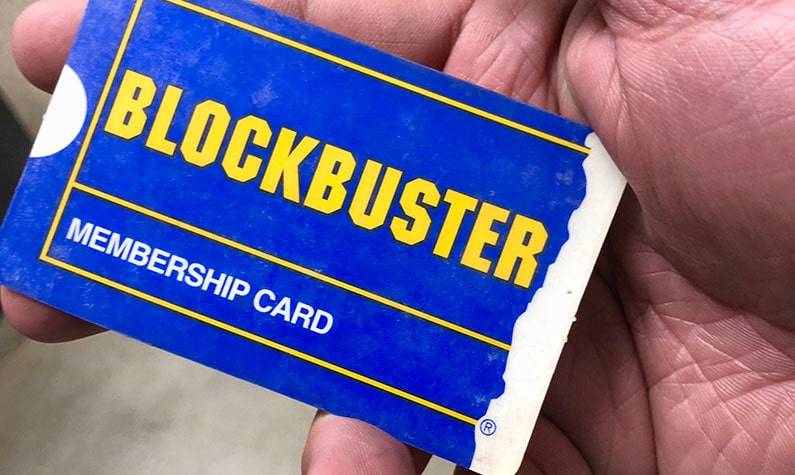 1985 | A Star Idea is Born
The lights are bright. The colors are vibrant blue and sunny yellow. The world-recognized Blockbuster Video logo is on display outside and in. It features a movie ticket stub, ripped on one side. Just like when you go into a movie theater. The store attracts big crowds and is abuzz with customers on weekend nights. This is how we remember our Blockbusters.
How did the iconic entertainment brand that was Blockbuster Video start?
The story goes like this:
David Cook was selling software to Texas oil companies, but not very well. His wife, Sandy Cook, wanted to open a video rental store and get out of the software business.
Why rent a video and not just buy it? The prices for new movies on VHS were steep back then. One new movie could cost $100, keeping many families out of the home-movie library market.
Entrepreneurs seized on an opportunity. Small mom-and-pop stores and regional video store chains bought the pricey movies and rented them out for a day or a week. Movie rental stores popped up, but with a limited selection of titles kept behind the counter. There was no tracking system, just a ledger of who rented what. Overdue fees helped to pay the up-front costs.
Cook's ideas, borne from his background in computer systems, modernized the movie rental business. He took it from afterthoughts in convenience stores to standalone storefronts across the country.
After a first start with a regional chain (that company didn't care for his corporate colors and branding ideas) Cook decided to do it himself.
He incorporated Blockbuster Video and opened the first store in Dallas with 10,000 movies. The logo and the store's color scheme, bright lighting and family-friendly vibe were a part of the brand.
So was the technology.
Cook put bar codes on each case and film. Instead of keeping the movies behind the counter, renters picked tapes off the shelf. Embedded RFID tags stopped customers from walking out with them.
The computer tracked what was in stock. He knew what was due and when. Membership cards were free. Proof of identity and a debit or credit card was needed to get one.
Three day rentals meant customers would pick up two or three movies for the weekend, not just one. They stayed open until midnight when other stores closed early.
Cook also began franchising the new business. The turn-key operation provided movies from a warehouse, computer systems, and a recognized brand. Stores had an identity: bright, stocked, and nearly identical across the country.
The company worked in volume, buying enough copies of new releases to meet demand. Using data gleaned from his computer system, Cook catered each store's movie inventory to local demographics and tastes.
He spread new films along the back wall to give customers room to browse. You might decide to pick up both an older film -- due back in a week -- and a new title due back in three days. That meant multiple trips back to the store to return them on time.
The store clerks knew movies, too. They would suggest titles for customers to try out, or filmmakers they might enjoy.
To make video nights at home special, branded microwave popcorn, soda pop and "movie-size" boxes of candy were displayed near the check out counter.
New films came in, and older movies sold off as "previously viewed" titles. A few copies would remain on the shelf, or return to the warehouse to help stock the new stores.
Blockbuster Video was humming along and growing.
1987 | Cook Out
In 1987, a founder of Waste Management, Wayne Huizenga, saw Blockbuster's potential. There were just 19 stores then, including one he visited in Chicago.
He liked that the company projected a family-friendly image. There was no "back room" for adult films common in other small stores. Parents would bring their children to browse titles.
He also saw the potential for faster growth.
According to Encyclopedia.com, "sales had risen from $7.4 million in 1986 to $43.2 million in 1987, despite the half-million dollar price tag for building new stores."
Huizenga and another partner bought in with an $18 million stock purchase. Two months later, Cook took a buy out.
The new owners sped up expansion. Huizenga bought competitor chains and made them into Blockbusters. They bought back franchise locations and made them corporate stores.
By late 1987, with 133 stores, the company's Texas warehouse could quickly ship titles to the new stores. At one point, a new location opened every day, fully stocked with movies. Video game rentals were added a few years later.
1994 | Blockbuster Entertainment
When Viacom bought the company for $8.4 billion in 1994, Blockbuster Entertainment was born. The logo was almost identical to the store logos, just with "Entertainment" replacing the "Video."
As the parent company of CBS, Viacom and Blockbuster now also had part ownership in TV and movie production companies. "Blockbuster Entertainment" showed up in the closing credits of shows and films it co-produced.
Revenue sharing deals were now a part of the success. Movie distribution companies had deals with Blockbuster, giving them a share of each movie rental. That, in turn, gave Blockbuster early access to movies. They got films in before other rental companies.
The company started an awards show, The Blockbuster Entertainment Awards. It aired from 1995 to 2000 but was cancelled after the Sept. 11, 2001, attacks. It never came back.
1996 | A Blockbuster Night
The "Video" of Blockbuster Video was taken off the logo. Stores that opened before the change kept the Video on the marquee signs. For all of those after, it was just Blockbuster. That is the image still seen to the end.
2000 | Netflix Nixed
The founders of start-up Netflix met with Blockbuster that year. The company was just three years old, doing DVD subscriptions by mail. Netflix offered to sell the company for a reported $50 million, keeping their people on to run the online rental business. The story goes that Blockbuster's then-CEO John Antioco tried not to laugh at the suggestion.
In 2021, Netflix's value is $30.48 billion.
2004 | The Film's in the Mail
In its peak this year, Blockbuster had more than 9,000 stores worldwide. The company added video game system rental and game trading to some stores.
The digital age was now advancing on the industry.
With Netflix picking up subscribers who could keep a DVD as long as they wanted, Blockbuster advertised "no more late fees." After eight days, however, the renter was charged the full price of the movie or video game unless it was returned -- with a late fee.
Blockbuster by Mail, an online DVD subscription service, was introduced in 2004 to compete with Netflix. The program allowed users to return their DVDs at stores or by mail. The service had 3 million subscribers at one point. It closed down in 2013.
2010 | Online Killed the Video Star
Blockbuster filed for bankruptcy with almost $1 billion of debt. While the company at first attempted to restructure and come out of Chapter 11, no exit plan was feasible.
So what happened between 2000 and 2010? Why did Blockbuster go out of business?
With the rise of Netflix, other streaming services and Redbox rental machines, conventional wisdom says Blockbuster was doomed to fail.
According to the 2020 documentary The Last Blockbuster, the company was in fact positioned to thrive in the new digital environment. What killed it, according to the filmmakers, was debt.
During the financial crisis of 2008-09, banks were unable or unwilling to refinance the company's obligations, former CFO/EVP Tom Casey says in the film. No cash meant no reinvention for the company.
Coincidentally, Casey went on to promotional t-shirt and clothing maker American Apparel. He served for a year there as acting President.
Following bankruptcy, another 300 corporate stores closed. Soon only franchise locations remained, without the brand support they once had. No more fresh signage, branded giveaways or corporate logo printed popcorn for the franchisees. These store owners had to create any promotional marketing on their own.
They slowly closed, too.
2011 | Dish It Out
In early 2011, Dish Network agreed to buy Blockbuster for $320 million, assuming $87 million in liabilities and other obligations as part of the deal.
The company did go digital with a streaming movie service. They even paid for Roku to put the Blockbuster name on pre-programmed remote controls for the streaming platform.
Dish decided in 2012 to not to go up against Netflix. Blockbuster Online never became a widely-used digital platform for streaming. That service is still available through Dish Network subscriptions, according to its website.
2021 | The Last Blockbuster
Bend, Oregon, has a population of 197,488. It also has the last Blockbuster.
The manager, Sandi Harding, has appeared in newspapers, magazines and national TV news. People flock to the store out of nostalgia.
She leans hard into that nostalgia. Harding knits hats in the Blockbuster colors to sell online. The store has a website with branded face masks, t-shirts, socks -- a whole line of promotional swag including souvenir Blockbuster membership cards. All with the recognized logo.
Harding has no tech support for the once-innovative computer tracking system. When the computer and its inventory system goes down, she hobbles it back together from spare parts and floppy disk reboots.
In the documentary, Harding awaits a phone call from Dish corporate offices to hear whether the franchise contract will continue. Spoiler alert: It was.
During the coronavirus pandemic, the store offered curbside pickup to keep people coming in. As of this writing, the last store remains open.
What does Blockbuster's end mean for other businesses?
It is a cautionary story.
Changing technology, valuing brick-and-mortar stores over online services, and not seizing opportunities when presented are blamed for pulling the plug on Blockbuster Video.
It is a reminder to businesses big and small to keep innovating, expanding, and finding new ways to attract customers in the face of massive changes to an industry. We are big fans of promotional products for that reason.
When you give customers something they can use, they will keep coming back. Give customers a branded power bank so they can stream Netflix movies on their phones without killing the battery. Make an app? Give clients PopSockets with the logo on it, so others will ask where they go it.
Those are just two ideas. There are thousands of branded promotional products on the market. Logotech will help you find the promotional product to make your business a blockbuster. In a good way.