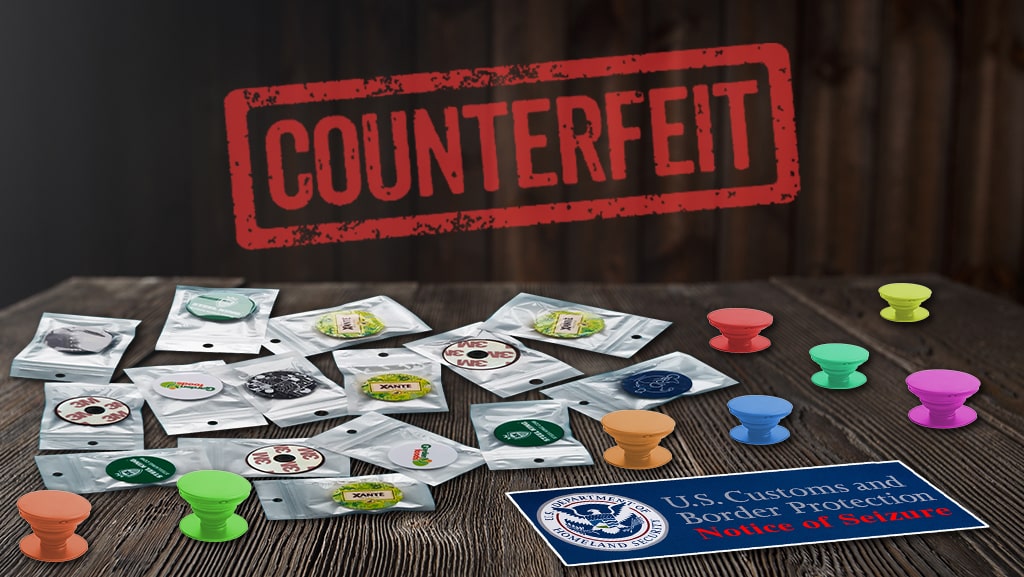 Real PopSockets vs Counterfeit Phone Grips
Learn how a real PopGrip protects your brand's image and how to spot a fake.
PopSockets phone grips are one of the hottest promotional products on the market. When customized with your business logo, they are a great corporate or small business marketing giveaway.
As you start searching for bulk PopSockets you will find some incredible deals, like imprinted PopGrips for 40 cents each.
Except that deal you just found is not for a PopSockets PopGrip. It is a custom phone holder, pop up grip, or a pull top phone holder. Those low cost grips are a knockoff version of the popular product.
Why does it matter whether you buy the real thing to put a logo on? Why not just save money and give your customers the cheaper, counterfeit version?
It is your name and brand on the phone grip. It is your current and future customers you want to impress. Counterfeit promotional products that are cheaply made are more likely to break, have a poor quality imprint, and do not represent your company well.
You also run the risk of never actually getting them. Customs officers seize counterfeit PopSocket shipments at the border.
Inventor David Barnett patented the PopSockets design to stop counterfeiters. His company received a rare general exclusion order that allows the U.S. Customs Service to confiscate knockoff PopGrips at the port – regardless of whether or not the name on the product is PopSockets.
That means the mobile grip you paid for might never arrive. The online company you bought them from has your money and does not care whether you get them. Neither are the counterfeit versions a well-made product.
We tested some fakes from overseas to see the difference. The plastic was cheap. It cracked and the logo peeled quickly.
Copycat versions simply are not equivalent to an authentic PopSocket.
Why are PopSockets worth it?
Here are just a few reasons:
They are reusable.
A real PopGrip uses the company's proprietary, repositionable gel adhesive, made to move from phone to phone.
They are sturdy.
PopGrips are made to expand and collapse 12,000 times and are manufactured from high quality, tested materials.
They are from a U.S. company, printed in the U.S.A.
PopGrips are made by an American company using materials approved for use here. They offer high quality imprints that will not fade, rub off or peel.
Perceived value and building brand loyalty.
Real PopSockets have a high perceived value. Customers will transfer that perception to your company and its products. Because you gave them a trusted, brand-name promotional gift.
You can resell a real PopSocket.
Nonprofit organizations with tight budgets love their customized PopGrips. In retail stores, you will pay $15-$20 each for a stock design. Our PopSockets sell for between $4 to $5 each. You can resell them at market prices as your fundraiser.
How do you know if your PopSockets PopGrip is fake or real?
To help buyers and customers determine whether the PopSocket you were given is real or a counterfeit, here are some clues:
What does the backing label say?
If you see a 3M backing over tape, it is not a real PopSocket. No blaming 3M here. The company makes glue products designed to keep things attached for a long time.
PopSocket's adhesive gel has a clear backing. That gel is designed to move your PopGrip. Pop the grip off, rinse it under cold water, and let it dry for 10 minutes. It will then go on your next cell phone.
How does it stick?
Take the backing off your grip. Stick it to something -- just not your mobile phone or case. If you can see the clear gel and it comes off easily (you might have to run some dental floss between the gel and whatever you put it on) it is real.
If that puppy will not come off, or part of the tape remains, it is a fake. To remove the tape that is now stuck to your device, a little Goo Gone and the back of a plastic spatula or pan scraper might get most of it up without too much damage.
What is the price point?
If your online retailer says they will do full color pop sockets for $.49 each ... no. While customized PopSockets are less expensive than what you will pay at retail stores, that price is too low.
Expect to pay $4-$5 each for a real, logo printed PopSocket. Prices go up from there, depending on your base model and imprint design.
Does it pop?
PopSockets make a distinctive popping sound. If you do not hear the pop, you likely have the knockoff.
What does the base say?
A real PopSocket proudly says so on the base. PopSockets.com and a patent number is embossed on each. Take a close look to ensure words are spelled correctly. Misspellings are a dead giveaway of a fake.
Want a visual guide? Check out our infographic on How to Spot a Counterfeit PopSocket. You can print it out this PDF for reference.
How are real PopSockets made?
Watch this YouTube video of how U.S. workers personalize PopGrips for our customers. The factory uses high-tech printing and laser engraving on your products. Quality control testing is done by hand, but they use some cool robotics to prepare and ship your PopSockets. With this awesome technology, Logotech can get your custom grips to you in less than two weeks for upcoming promotional events.
Still not convinced? How about we send you a real, free PopSocket to try out? You will understand why it is the right choice for your marketing.
Are you ready to buy real phone PopGrips, PopWallets and PopMounts? Contact Logotech or create an account with us. Your Account Manager will help you find the right design for your brand, and get you the real thing.