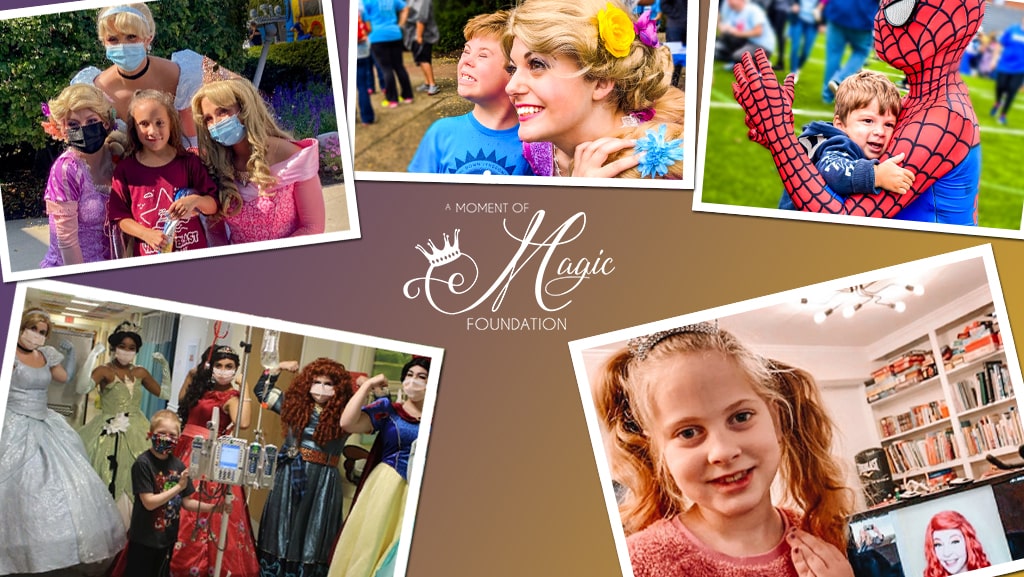 October 2021 Logotech-4-Good Recipient
A Moment of Magic gives children time to forget their illness.
A Moment of Magic and its affiliated chapters give children facing serious illnesses the opportunity to forget, for even a little while, their disease.
Volunteers at chapters across the country work with children's hospitals and other residential programs to bring beloved characters to their patients. For a short time, the children can forget about their physical problems and just be kids.
Logotech has named A Moment of Magic its October 2021 Logotech-4-Good recipient. The group will receive up to $500 in promotional, logo-imprinted products to help expand its volunteer base, donors to the program, or however it best suits them and the children they aid.
A Moment of Magic works with colleges to connect volunteers to hospitals and other groups that work with special needs children. Volunteers dress as fairy tale princesses, comic and movie superheroes, and other "special request" characters. Visits can include storytimes, book readings, arts and crafts, and other projects with the youngsters.
When the patients visit with their favorite characters they have a "more positive experience in a place that isn't associated with positive experiences," said Michael Duffy. He is the business administrator at the A Moment of Magic Foundation and applied for the Logotech grant.
If there is a chapter within a four-hour radius of a pediatric hospital or ward, they will send characters there, he said.
The program had to make changes during covid-19. Instead of in-person hospital visits, they are doing the events through the web, outdoors when possible, or "drive-by" events with costumed characters.
Changes due to the pandemic have actually helped to expand the program, with more characters, time-slots and native languages added "for all of the kids who ask for us," Duffy said.
Volunteers from local colleges are interviewed and auditioned for their roles. Those volunteers come from a range of degree studies -- from theater majors to business college to premed students.
A custom department also works to ensure the characters look just right to help create the illusion, he said.
"Since beginning operations in 2014, we have visited over 100,000 children through partnerships with more than 100 hospitals to provide unique, innovative, and essential services to children undergoing serious medical treatment," Duffy wrote in their application.
"Our programming places a specific value on play, imagination, and creativity. Providing children with this opportunity can improve the likelihood their medical treatment will have a positive outcome -- allowing a kid to 'just- be- a-kid,'" he said.
Learn more about A Moment of Magic at its website.
Apply for the grant and read about past winners at Logotech.com