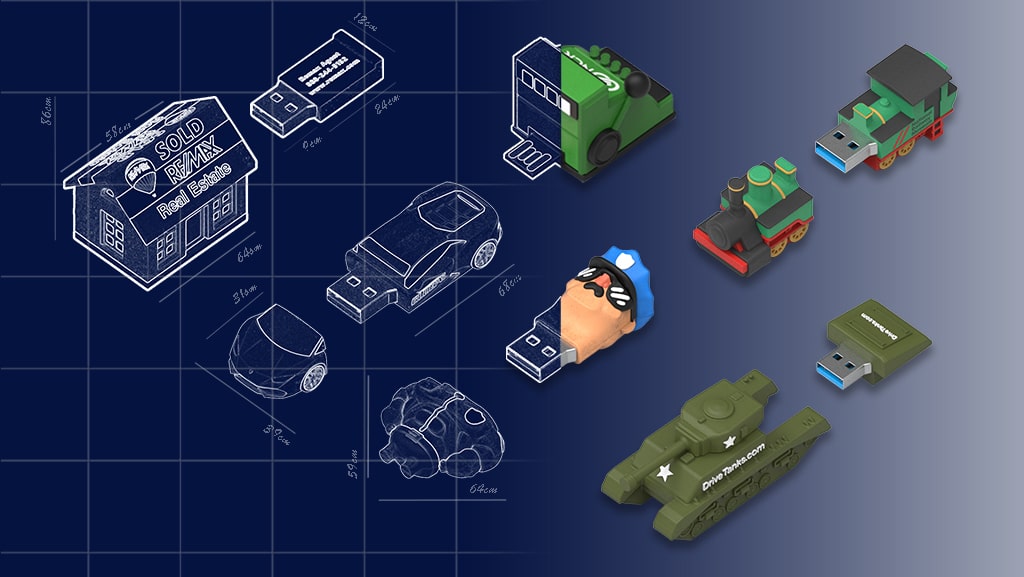 You Can Turn Any Design or Sketch into a Custom USB Drive
Many people do not realize how customized a custom USB drive can be. You are not limited to selecting from a preexisting menu of designs that everybody in the world is choosing from. You can make a custom USB drive one that only you or your company uses.
The process is simple. You provide us with a details on what you want your custom USB drive to look like, and we create it out of a variety of materials, colors, and storage capacity. We can use as little as a hand sketch, or as detailed as a Autocad drawing. We will take whatever drawing you provide us and create a digitized 3D model prototype of your custom USB drive. Once you approve it, we go to production and manufacture a picture perfect model of what you want created.
No idea is too far out of the box. The more unique the idea, the better product we create for you. This is what makes a custom USB drive such a powerful marketing tool:
Recognizable branding
Tremendous amounts of data fitted into a small convenient device
Reusable storage that will guarantee multiple impressions each time it is used
To learn more about how to create a custom USB drive perfect for you and/or your business, visit: our custom USB page.