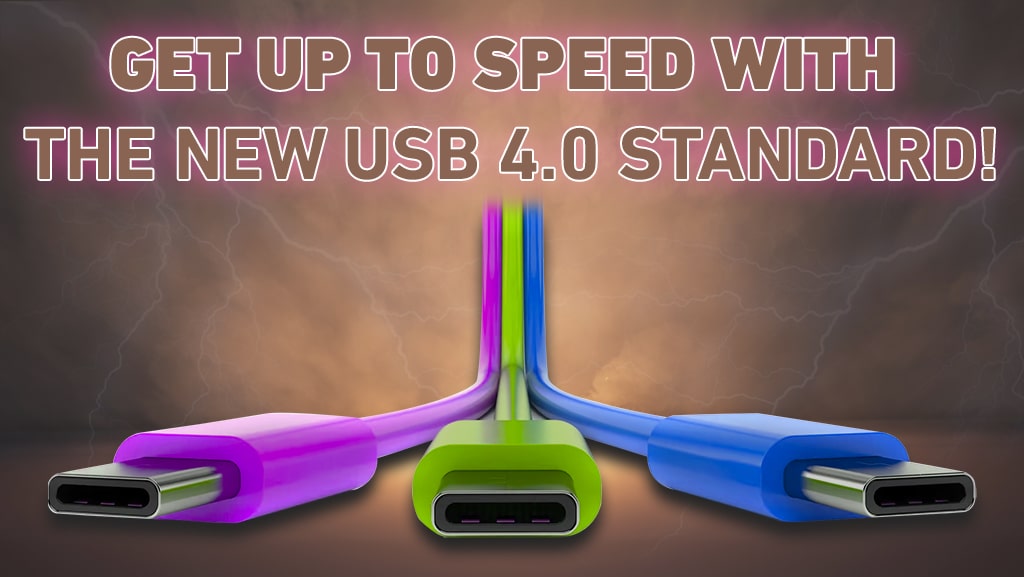 USB4 V2: The Latest and Greatest in USB Tech
USB ports and connectors have been a mainstay in the tech world since the 1990s. These days, everything from your laptop to your car has some kind of USB compatibility.
While the USB system has been popular for decades, the ports and connectors used have changed quite a bit. In such a short time, we've gone from 12 Mbps USB-A to USB-C, with the latest USB 3.0 versions boasting a 20 Gbps transfer speed.
Now, the latest version of USB, USB4 V2, is set to bring a new standard in speed and compatibility.
What is USB4?
USB4, also known as USB 4 and USB 4.0, was initially revealed by the USB Implementers Forum in March 2019 and released on August 29, 2019. This new standard has speeds of 40 Gbps, double the current transfer rates of USB 3.0, and uses Intel's latest Thunderbolt port and connector technology as the basis of the technology. USB4 also boasts impressive changing speeds, with the ability to provide up to 100 watts to a device.
Since the system is still new, there aren't too many devices that support it natively. Modern Apple computers and Intel-based motherboards are the only significant users of the system.
As for general compatibility, all USB4 devices use the standard USB-C connector. That means you can use a USB4 cable or connector with any device that accepts USB-C, but you won't get the fastest speeds unless the device specifically mentions that it uses USB4 technology.
How is USB V2 Shaking Things Up?
On September 1, 2022, the USB-IF announced that a new version of USB4 was in the works. The new system, aptly named USB4 V2, sets to improve the existing system while improving its compatibility with other devices.
Transfer Speeds
Perhaps the most notable change coming with USB4 V2 is the transfer speeds. This firmware version will boast an astounding 80 Gbps transfer speed, the fastest ever seen for USBs. The system can achieve these speeds by using existing 40 Gbps USB Type-C passive cables and new 80 Gbps USB Type-C active cables. That means you won't need to get rid of the USB 3.0 Type-C cables you already own to use USB4 V2.
Efficiency
USB4 V2 will also update the data and display protocols to use the increase in bandwidth better. That means the firmware can determine how much bandwidth your devices need for the best performance possible.
For example, say you're watching a movie on a 4K monitor off of an external hard drive, and they both use the new USB4 V2. The system will determine precisely how much bandwidth is needed to keep your movie streaming without interruption while ensuring you maintain a crisp and consistent 4K resolution.
Backward Compatibility
Another significant change with USB4 V2 is backward compatibility. The new standard will be compatible with the original version of USB4, USB 3.2, USB 2.0, and Thunderbolt 3. Thanks to this new feature, you can get the best performance possible across all your devices with one system.
When Does UB4 V2 Release?
Since it only just got revealed, there currently is no expected release date for USB4 V2. Instead, the USB-IF plans to reveal more information about the system and its specifications during developer conferences later this year in November. The group could announce a release date then, but considering how new USB4 itself is, it may be some time until the V2 framework is available.
Whenever USB4 V2 arrives, you can expect Logotech to be ready with USB flash drives and connectors so that you can provide your team and clients with the best in USB tech. In the meantime, check out our existing lineup of customizable USB 3.0 flash drives. Contact your account manager today to place an order.