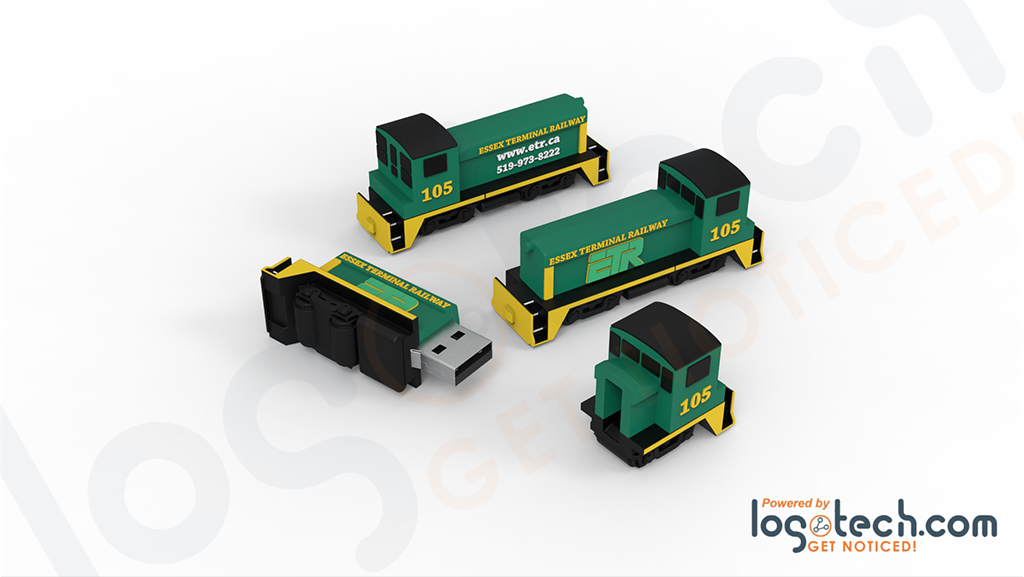 Train USB Flash Drive
Put your marketing plan on the right track with custom locomotive USB flash drives.
Rail is currently the most fuel-efficient way to move goods over land. That's because one train can carry the same freight as several hundred trucks. You'd need 99 million extra trucks to handle the cargo moved by the 632 freight railroads in the U.S.A.
These trains are constantly running all over the country to ensure they deliver their goods on time. That means there are plenty of days and nights where the crew will be away from home as they travel on their train. At the same time, they'll also need a way to manage shipping manifests, records, and other necessary documentation.
By giving them a custom train USB flash drive, your team will have a convenient place to store all these items digitally. You can customize these portable flash drives to have the same color scheme and logo as the trains your team works on.
These portable flash drives are also handy for crews to store movies, TV shows, and other media they want to watch. Doing so lets them save storage space on their laptop or phone while still having something to do during their downtime.
Are you interested in getting a custom train USB flash drive for your business? Send your logo today, and we can provide you with a free sample.
Frequently Asked Questions:
Q: How many custom USB flash drives can I order?
A: You can order a minimum of 100 custom-shaped USB flash drives. Your account manager makes it easy to place a bulk order for more significant amounts.
Q: What storage options are available?
A: We have custom USBs ranging from 128MB to 256GB.
Q: Do you offer USB 3.0?
A: Yes, we offer both USB 2.0 and USB 3.0 flash drives.