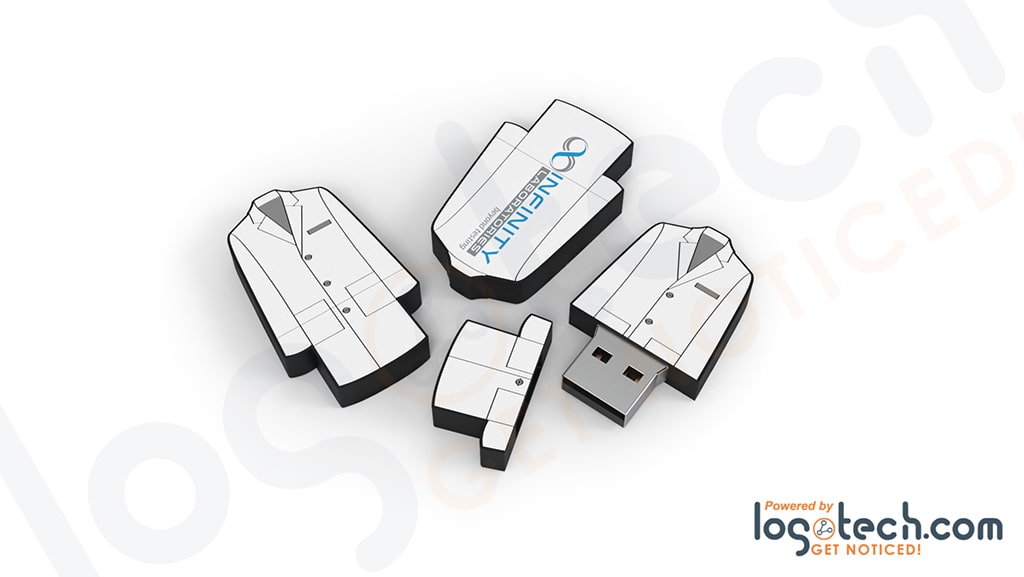 Lab Coat USB Flash Drive
White coasts are always in style for scientists and lab techs.
A white lab coat is a sign of experience and professionalism for lab technicians, scientists and doctors. Show your customers that professionalism with a Lab Coat USB Flash Drive.
How did white coats become a symbol for science?
As they learned more about germs in the late 1800s -- how bacteria and viruses are transmitted -- white coats demonstrated cleanliness. That was about the same time that scrubbing hands became commonplace in hospitals. It didn't mean the doctor was "dirty," it meant not passing germs to the next patient.
Anyone wearing white also knows -- splashes and stains are apparent. See a spot? It is time to change and launder to keep the area sterile.
Highly-rated testing labs go beyond just being clean. They know that any contamination can ruin a test and close both their facility and a client's. Contamination also puts lives at risk. Give customers your testing results and inspection reports on a custom shaped flash drive.
Want to put a face on your lab technicians? Then take a look at our USB People flash drives. We can make these custom designs with any logo, skin tone, gender and hair color.
Load up custom flash drives with any documentation your customers need. They will sit on desks and be seen throughout the day, reminding clients why they prefer your services.
Would you like to see your company logo on 100 percent custom products? Contact your Logotech Account Manager to get started and clean up your promotional marketing.