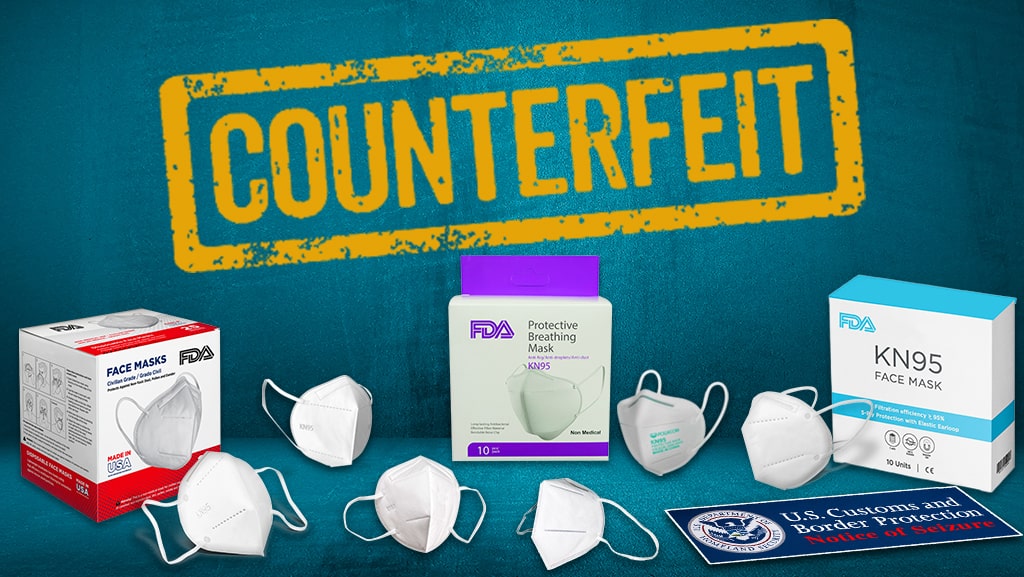 How to Spot Fake KN95 Masks
There are tools available to help you.
When the FDA announced Emergency Use Authorization (EUA) for overseas-made KN95 face masks (respirators) for medical use, counterfeit mask makers tried to cash in.
How? Days after the regulatory agency posted a list online of approved KN95 manufacturers, counterfeiters launched "new" websites for the companies highlighted. In reality, shady companies made fake websites that looked a lot like the real ones.
These online sellers designed sites to lure buyers to them and away from the real makers. If a buyer typed in the company's name and missed one or two letters or used the wrong domain, the fake website could pop up on their mask searches.
Why make a fake website? To sell "approved" KN95 respirator masks that were not. These fraudsters often offered low-quality face masks that may not block anything.
Fake masks can be a danger to the wearer. A real KN95 respirator mask, like their medical-grade N95 counterparts, needs to block at least 95 percent of airborne particles from getting through. There was nothing to indicate that the masks made by these other companies would do that.
For the average buyer, telling the difference between real and fake can be nearly impossible. They look convincing, and the masks were often imprinted with the better-known maker's name.
To counter the fake websites and bad masks, the FDA has now made it simpler for buyers to search through its database of EUA manufacturers. Tools there help consumers find quality personal protective equipment and avoid counterfeit suppliers and their online stores.
While the FDA's EUA list applies to using KN95 masks in medical settings, it is also an excellent resource for non-medical buyers to determine if their masks offer the best protection.
How can you verify you have a reliable KN95 mask?
Consumers can now search the FDA website by mask manufacturer for EUA respirator masks. Links there also take consumers directly to the mask's product page, on the real manufacturer's website. You will find photos and/or drawings showing exactly what the packaging and product looks like to compare your KN95 masks directly.
The FDA also includes a database of respirator models that are no longer authorized because they did not continue to meet regulatory requirements. If your KN95 masks in hand do not appear on the "approved" list, search for it there.
You can also learn how your KN95 masks performed at blocking particles. The CDC has posted the National Institute for Occupational Safety and Health (NIOSH) test results. The site includes any face mask respirators submitted to NIOSH for testing -- both the good and the bad results.
The CDC reported some manufacturers said they never submitted respirators for testing, or that the results found are not for their products. A separate list on the page gives test results for masks reported as counterfeit.
U.S. Immigration and Customs Enforcement (ICE) and Homeland Security Investigations (HIS) are also helping to keep fake respirator masks out of the country. According to the Advertising Specialty Institute, customs has seized 21.2 million counterfeit masks in the past year.
Chinese customs officials also work to prevent fake mask exports.
How is China dealing with counterfeit masks?
China is taking the manufacture and sale of fake KN95 face masks very seriously.
Customs officials in China have provided guidelines to prevent the export of fake face masks for public sale. (Google offers an English translation of the linked document). If your masks do not meet theses standards, be cautious of using them.
What to look for in non-medical KN95 masks, according to Chinese regulators?
A designation on the package should state "This is a non-medical device," "Not for medical use," or similar. Stickers do not count. It must appear on the packaging in at least one foreign language that is not Chinese.

It can not have an FDA logo imprinted on the mask itself or its packaging. It is illegal to put the FDA logo on non-medical use respirators.

CE (the European Union standard) and KN95 can appear on the mask. It must show the corresponding technical standard for non-medical masks. For the CE it is: EN149-2001 + A1: 2009. KN95 non-medical technical standards are: GB2626-2006

The product certificate must include: product name, model specifications, batch number, production date, warranty date, technical standard, material and production manufacturer. Other information must be complete.

The packaging must be retail packaging, not simple bulk packaging. Either a standard color bag or a standard carton marked for retail sale is OK.
There is an unintended consequence of how seriously Chinese officials take fake masks. Customs officials carefully check exports so it may take longer for real products to leave the country, too. We are working hard to deliver real KN95 masks to our customers.
How can you ensure your mask actually offers protection?
The FDA and CDC websites are great tools to research the face masks you have on hand, or to verify what you are getting offers protection. Still, it may be difficult for people to determine which manufacturers make real KN95 masks before they buy.
Also, not all KN95 manufacturers have submitted their masks to the FDA or CDC. That does not mean they are not quality masks. The CDC suggests you contact the manufacturer or your supplier if you are unsure which you have.
Another clue to whether you have real KN95 masks or not is the price. Very inexpensive respirator masks are likely forgeries.
Based on current market conditions and the quantity you buy, authentic KN95 masks should cost between 16 cents and 40 cents each. They are quite affordable and offer excellent protection.
To help our customers, Logotech has done the research for you. We source from known suppliers to get our KN95 masks and other PPE. These masks come from companies with long track records, excellent reputations, and years of experience.
Contact Logotech today to order your high quality PPE. We will help get them into your store or business soon.