Face Mask Options from Logotech
Logotech has several face mask options for customers. We want to ensure our long time clients, and new ones as well, can find masks from a source they know and trust.
So what mask style should you be getting for your office, warehouse, restaurant -- or any business that needs masks to reopen or continue to serve its customers? This is an overview of our non-medical face masks. We offer suggestions on whether you should buy KN95 masks, surgical-style masks, or cloth (barrier) masks.
What is a KN95 face mask?
True KN95 mask are a Chinese standard, and analogous to N95 masks. They block 95 percent of airborne particles but do not have NIOSH (U.S. National Institute of Occupational Safety and Health) certification. The FDA authorized some KN95 masks as an alternative to NIOSH N95 for some uses. This site does not include a complete list of high-quality KN95 masks but does offer direction for buyers.
At Logotech, we are getting KN95 masks from FDA-authorized manufacturers. We are not offering medical-grade masks: we have masks for non-medical use only. These everyday wear masks offer excellent protection from airborne particulates.
We offer both KN95 4-layer and a 5-layer KN95 masks, in both rush and non-rush options. These masks block 95 percent of airborne particles and come with ear loops for comfortable wear.
When worn correctly, with a snug fit around the nose and mouth, KN95 masks offer excellent protection for both the wearer and those around them.
What are surgical masks?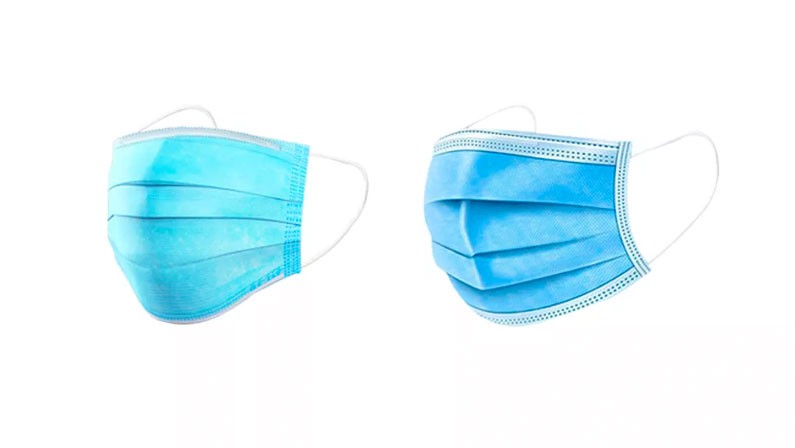 According to the FDA, surgical-style masks may also be labeled as isolation, dental, or medical procedure masks. Logotech has surgical-style disposable masks available for our customers: the Disposable Personal Protective Face Mask, Disposable 3-Ply Medical Face Mask, and the 3-Ply Face Mask.
Surgical-style masks are affordable and a good option for businesses, like food services, who may go through many masks during a workday. They offer the wearer protection from large droplets, splashes and sprays. They are loose-fitting and create a physical barrier between the wearer's mouth and nose and the environment around them. By design, they do not block tiny particles in the air. Surgical masks are not intended to wear more than once and should be discarded if it becomes soiled or hard to breathe through.
What about cloth masks?
Cloth masks are a good option for people not displaying symptoms and for everyday use: running errands, walking the dog or at the park and grocery shopping. Worn and sanitized correctly, cloth barrier masks can help reduce COVID-19 spread. If everyone wears a mask, the chances of spreading the illness is reduced even more.
Following CDC advice, the American Lung Association recommends a barrier mask for anyone in public. "The American Lung Association encourages everyone to follow this guidance and wear some type of face covering while in public, such as a homemade mask, bandanna or scarf, but reserve the limited supply of personal protect equipment (PPE), surgical masks and N95 respirators, for front-line medical works."
There are many options available for cloth masks. We have cloth masks which you can imprint with a logo, too, for your employees and customers.
Custom Yowie® Multifunctional Rally Wear: works as a face mask, bandanna, head wrap, scarf, and more. Imprint available, too!
Budget Non-Woven Face Mask: has soft nylon cord straps that adjust for comfortable wear. It is made in the USA from imported materials.
Daily Face Cover Mask: is made from a no-sew design so it is produced with zero human touch. Its ultra-soft jersey fabric makes this one-piece face mask comfortable and breathable. Custom imprint is available.
Custom Reusable Face Mask: includes up to four-color dye sublimation printing imprint on white fabric. Is a great daily wear mask when hand washed between wearings.
Which style face mask should you get?
When worn correctly KN95 face masks offer the best non-medical air filtering available. They are not designed for washing or cleaning, however. At best, you should not use each mask more than five times before replacing it. Replace a KN95 mask immediately if it becomes wet or damaged.
Surgical masks, as stated above, are great for workplaces which will go through a lot of masks in a day. They are designed for single use only, but are comfortable for longer periods of time.
Cloth masks are best for occasional wear: going to the grocery store, walking in the park, picking up food and other short uses.
Also, consider getting at least two masks, or a combination of KN95, surgical and barrier masks. That way, the cloth mask can be washed in hot water with strong detergent between wearings.
Masks are just one way to help prevent viral spread. The Mayo Clinic offers recommendations on face mask wear as well. Masks, including those we offer, do not guarantee you will not get, or spread, COVID-19. Continue to follow social distancing guidelines, wash your hands with soap and water for at least 20 seconds, and stop touching your face.
---
Contact your Logotech account manager today to learn about our bulk personal protective equipment (PPE). We can help you determine what mask works best for your needs.