Custom Flash Drives for Musicians
Ready to put your music on a custom USB flash drive to sell at your concert dates, gigs and fan events?
We can make the perfect 2D or 3D USB flash drive for whatever genre of music you perform. Individualized for your aesthetic and style.
Musicians love USB drives because they address a big change in the industry.
CD sales are down. Newer cars and laptop computers don't even come with a optical CD player. Many Millennials and Generation Z'ers don't own CD players. Want your music directly in fan hands? USB flash drives are the way to go.
What can Logotech do for you as a musician? We have a catalog of Entertainment Flash Drives we've done for musicians and the entertainment industry. Check out some of the we've done for rappers, painists, DJs and indie rockers.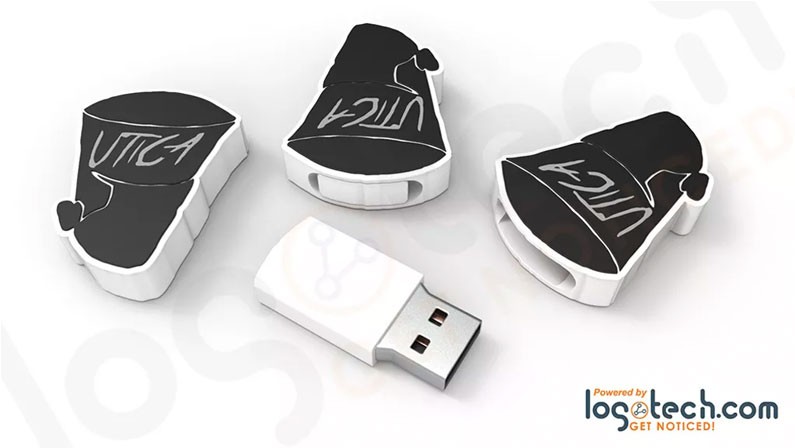 Our music customers always come up with innovative, fun ideas. They know how to take their branding, logo or album art and make it into custom 2D flash drive.
They've asked for everything. We've taken a full-body drawing and made it into a flash drive. Also popular are comic-inspired renderings of themselves as a jump drive.
What is a 2D flash drive?
What is the difference between a 2D or a 3D custom USB flash drive, you ask? Custom 2D flash drives are flat and typically 1/4-inch to 1/3-inch thick. The Type A USB drive heads are uncovered by pulling apart the custom shape. Or, by sliding out of the body.
Our 3D drives are larger, have height, depth and width. They can be just about any shape and thickness. As long as the drive still allows the user to plug the drive into a laptop or desktop computer's USB port.
Custom drives — both 2D and 3D — can be shaped into any logo or design you can imagine. Go to our custom USB page to learn more. Then send us high quality images of your logo, photos of your idea, or actual blueprints of your product's spec.
Our design team will create the drive of your dreams and your Account Manager will help orchestrate the process from idea to delivery.