A Brief Guide to the Best Promotional Tech Gifts
Corporate gifts are a great way to promote your business and they are often cheaper than traditional methods of advertising. When you hear "corporate gifts" chances are you are thinking about branded t-shirts and pens. Nothing wrong with that, but people rarely wear branded t-shirts (unless they carry the logo of a really popular clothing company) and, in my experience, sizes never fit. As for pens, once the ink is gone, few people will bother to get a refill and they will likely end up in the trash. That is why we suggest opting for something more likely to stick around and be used such as USB tech gadgets and accessories. Here are a few ideas on how you can impress your clients.
Branded car chargers
Bearing in mind our busy lifestyles, it's not unusual that we leave the house only to find out the battery on our phone is dying. Having a car charger that plugs into the cigarette lighter, so you can charge your USB-powered gadgets, can be a real life-saver. Be sure people will be sending happy thoughts your way after a similar incident or two. If you want to get even more innovative, make that a solar charger. Those nifty gadgets are gaining in popularity and draw enough power to charge most smartphones.
Branded and Customized USB drives
Giving out promotional USB drives is one of the best ways to go. USB drives have gotten really cheap and in addition to branding them, you can make custom USB in any shape you like. Imagine opening a seafood restaurant and giving out flash drives shaped like sushi rolls. Plus, flash drives are really practical. Virtually everyone who uses a computer carries around one with them. Again, think of something that will make your gift stand out. Make the USB drive a part of a Swiss army knife set, for example.
Branded Pen Laser Pointer USBs
If you want to take the USB drive capability one step further, try the pen laser pointer USB. This 3-in-1 gadget is perfect for people who participate in conferences. It looks like a regular pen and can be used like one, but once you unscrew the cap it is also a USB flash drive and a laser pointer. Rest assured, a lot of people will appreciate this gift when preparing for a presentation and going through the list of things they will need. Not only does this gadget feature three indispensable tools for a presentation, but it is also a real space saver.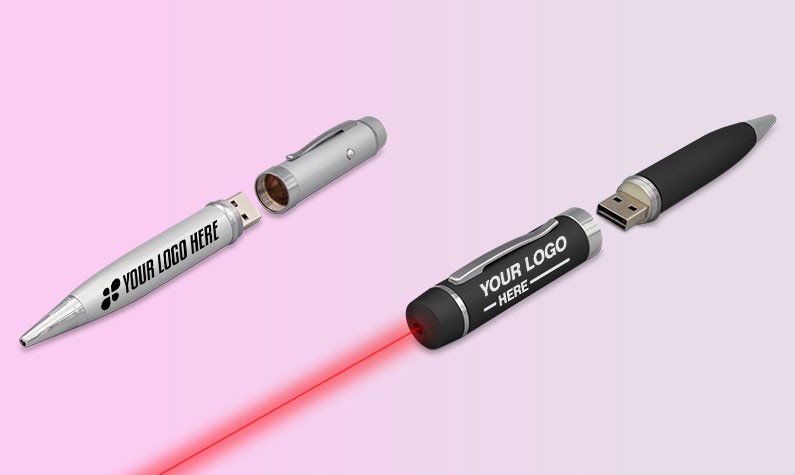 Branded USB Wristbands
These USB wristbands look like any other fashion accessory and it can be made of plastic, metal or rubber, but it comes with the added benefit of a USB flash drive. It will be equally appreciated by people from all ages and of both genders. Students can use it to back up their work progress and people with medical issues can use it much like a medical ID bracelet, storing information about allergies and doctor names. Another way in which this is a great gift? It is much harder to lose than regular USB flash drives.
Branded USB cup warmers
Nobody likes their coffee cold, right? Surprise your potential customers with this promotional tech gift and you can be sure it will be put to good use by virtually anyone who works in an office. Even better if it plugs into a car lighter as well. Want to make it even more geeky? Brand a few pairs of USB foot warmer (yes, they do exist) for those long winter months.
There are many ways to promote your business through branded corporate gifts and we hope our ideas will help you unleash your creative potential. If you decide to try some of them, please let us know how it goes.
We hope this brief guide to what is new and hot for tech promotional gifts gives you ideas for your corporate gift. Need more ideas? Come over to Logotech and our expert account managers will help you determine the right promotional product for your presents.