10 Industries Using USB Flash Drives for Promotions
10 Industries Using USB Flash Drives for Promotions (And How They Use Them)
Promotional flash drives offer much more than just their tech capabilities for your promotions and there are several creative ways to incorporate them into any marketing campaign. Various industries can take advantage of them and all kinds of target audiences will find promotional USB drives beneficial.
Custom shaped USB flash drives are powerful and versatile promo products. They fit any marketing or advertising event. Whether it is for a product launch or a business conference, they have a role to play in your campaign.
Best of all, they are completely customizable. We can help create a design to match your brand, making your company more memorable to consumers. The important question for you as an entrepreneur is this: How can you amp up the effectiveness of your campaigns by using them?
Here are some ideas, insights and creative uses for USB drives based on how our customers already use them.
1. Financial Institutions
Conference Giveaways
Banks and financial institutions use customized USB drives to distribute information at conferences or seminars. Instead of providing attendees with folders and binders of the presentation for later review, USB cards are a popular choice. They are perfect for branding as the USBs can mimic ATM cards. At the same time, the front and back parts of the card give banks enough space to convey their promotional message.
Quarterly Reports
Banks are rapidly going paper free and becoming more conscious of their impact on our environment and the cost of printing. Aside from seminars and conferences, banks and financial institutions are quickly going digital for their quarterly reports. USB drives have provided them with a very convenient way to transition from paper to digitized processes.
Promotional Gifts
Banks and financial institutions have a long-standing tradition of gifting important clients and prospects with customized items. For years, pens have been their go-to branded promotional product. These days, you can see more banks giving away USB drives. It should not come as a surprise given their high utility. Since flash drives are highly customizable, banks can do more than just add their logo to the item. Take Chase Bank and their block-shaped custom USB drive as an example.
Check out all of our designs for the promotional USB drives for the finance industry.
2. Education
Recruiting
Schools, colleges, and universities are leveraging flash drives to promote their institutions. At college fairs, they give prospective students promotional flash drives with important information about the school and its programs. These educational establishments have their flash drives customized, too, often in the form of a book, school bus, pencils and rulers. Some go all the way and have their drives shaped as the school's logo or mascot.
Student Orientation
During orientation week, schools hand out papers, fliers and brochures detailing the school's history, programs and more. Instead of using all that paper, you can opt to distribute USB flash drives. This way, first-year students can easily find whatever it is that they need to know about their school in digital format. After orientation, they can use the flash drives for academics and keep their homework in digital form. If they leave behind or lose their papers, they can just print new copies in the computer lab.
Organizations and Fundraising
Student organizations and other groups will find customized USB flash drives an attractive option for their recruitment and fundraising needs. For example, a sorority that used USB wristbands for admission to a recruiting event. The sorority opted to preload a video highlighting its history of community service and academic excellence. That, paired with their sorority logo imprinted on the sleek wristband, was wildly effective in raising brand awareness.
Bookstores
Campuses and independently operated bookstores find USB drives to be a strong selling item. Custom shaped USB drives like this book shaped USB flash drive drive for Loyola University, or the notebook shaped USB drive for Roosevelt Univeristy are great examples of what works well for our clients in the education sector. Custom shaped mascot USB drives are also a very popular option for bookstores.
Browse all of our promotional USB drives for education.

3. Transportation
Promotional gifts
If you operate a transportation, logistics or trucking business, amp up your marketing plan with custom USB drives. You can send them as gifts to loyal patrons. You can make these items look like big rig trucks. Add promotional videos and documents to reinforce your marketing efforts.
Customer Acquisition
The logistics industry covers a lot of bases, from rail yards to airports to highways to ports. There is a lot of competition to help manufacturers and producers get their products to consumers. A custom-shaped plane, cargo ship, rail tanker, shipping container or train flash drive tells leads exactly what you do and how you get their goods to market. Preload your drives with rates, contact information, videos of our facilities and processes to obtain their future business. Those custom drives can also be created with your logo as part of the design, and contact emails and phone numbers can be added as well.
Here are some designs for custom USB drives for transportation.
4. Automotive
Giveaways
Whether you run a car dealership, body shop, auto parts store, or car rental services, these customized flash drives are a great way to get noticed. Printing your company's name and logo on the surface makes it easier for consumers to remember your business. They will never forget about your services if you take your marketing efforts up a notch with USB flash drives shaped into your dealership's premier make and model, or key fobs imprinted with your mechanic shop's logo. We can make a custom USB flash drive in any shape, style, color or idea. Request a quote and our talented design team will gladly do a custom build for you.
Closing Documents
To reduce paperwork and filing, many dealerships have gone to completely online, digitized processes for selling cars to consumers. At the end of that deal, the new owners are given all of their documentation on USB flash drives. Those drives can be stored in the same lock box as any other important documents. Need to check your interest rates and payment schedule? Pop the USB into your computer's port and check, rather than dig through a stack of files and paperwork.
Check out our automotive industry USB drives page for ideas.
5. Health Care
Manuals and Interactive Guides
Whenever new complex products are introduced to medical institutions, professionals learn how to operate them through manuals and booklets. These instruction guides are being replaced more and more with flash drives. In addition to PDFs of the operation manual, the USB can be loaded with a direct link to troubleshooters, the maker's website, video demonstrations and more. This way, users can connect with the maker quickly, especially when the USB flash drives are lanyards or wristbands.
Product Launches
Aside from utilizing USB flash drives for instructional materials, the healthcare industry is also using them to promote new products. Digital catalogs of the latest products are placed in the USBs and are mailed to existing or prospective clients. Others are utilizing USB brochures. Once accessed, clients are redirected to the website where they can learn more, or purchase the products.
Promotional Gifts
Hospitals show their patients and staff how much they appreciate them by gifting customized USBs. Those drives can also be used to load aftercare directions, physical and occupational therapy videos and articles, and more. Children will love custom USB drives when they are tailored to match pediatric professions. Logotech has built a number of custom shapes for our health care industry partners including hearts, lungs, pill bottles and more.
Browse the catalog of medical industry USB drives for more ideas.
6. Travel and Tourism
Promotional Gifts
Travel agencies, resorts, cruise lines and visitors bureaus can raise brand awareness by giving away custom USB drives. The gesture will not go unnoticed since flash drives can be remarkably useful when picking a destination. Custom drives shaped like your ship, local landmark or native species are made even better when you preload information on them. Preloads can include videos and photos of the area, information on amenities, and more.
Keepsakes and Memories
Many adventure and experiential travel businesses like scuba diving, helicopter tours, safari rides and skydiving are using promotional USB drives to provide their visitors photos and videos of the trip. One skydiving customer increased its revenue by uploading GoPro video footage of their client's jump and selling the drives as a keepsake package. Ziplining companies love the wristband USB flash drives for video, as do diving outfitters.
Dive into a few travel and tourism flash drives.
7. Music and Entertainment
Album Releases
Artists all over use custom USB drives to launch new albums or relaunch existing albums. It is proven to be a creative way of getting consumers into buying music again. Releasing new tracks? Your USB drives can be a wristband for fans to wear at concerts or meet-and-greets. You can also add exclusive materials like video, wallpapers and photos to your flash drives to encourage fans to buy.
Premiums
We've made custom USB drives into all kinds of shapes, sizes and styles for the music and entertainment industry. Add a little more pizzazz to your marketing effort by giving your fans a personalized flash drive as part of their concert ticket, or as an add-on when they purchase your latest album. Many of the newest cars no longer come with a CD player, but USB flash drives can be plugged into the USB port to play music directly off the drive.
Tune into some of the fun USB flash drives for the entertainment industry we have done.
8. Real Estate
Calling Cards
When you are competing against other Realtors, mortgage companies and funders, you need to get your name into the communities you sell in and ensure you are the professional sellers and buyers go to. The right promotional product as your calling card/giveaway is a big part of that. USB business cards are great for that. You can preload the USB drives with layouts and amenities in new home construction projects, and or provide a link to take your clients to your website and current listings.
Closing Documents
Just like the auto dealerships are placing signing documents on USB flash drives, so are title companies. Instead of a stack of documents, your mortgage and title information is placed on USB flash drives. Those drives go directly into the safe, but they are also an opportunity to repeat your branding and contact information for future needs.
Thank You Gifts
We have created custom shaped USB flash drives for some of the country's largest real estate selling groups. Help ensure your clients future referrals by giving them one of those drives imprinted with your name and contact information. Preload the drives with information on their new community and its schools and recreation offerings, and those clients will rave to friends about how helpful the USB drive and your company was for them.
Tour our flash drives for the real estate industry.
9. Photography
Marketing
With the advent of digital photography, cheap but good cameras, and free editing software, there has been an explosion of photographers competing for business. It is not enough any more just to have a good website or social media presence to attract and retain clients. A good flash drive for photography loaded with watermarked examples of your past work and handed out at the right events like bridal expos, community events and conventions are a great way to not only earn future business, but to keep your name at the top of potential client's minds.
Product Delivery
You probably upgraded to CDs for turning a client's final photos over to them a long time ago. Technology has outpaced the storage capacity on these devices, however. If you are giving your clients digital versions of their photos, you need to hand them over on USB flash drives. We have a gallery of photography-specific custom shaped drives to consider for final delivery. Photographers also love our wood USB drives to give clients.
Click on examples of flash drives for photographers.
10. Public Safety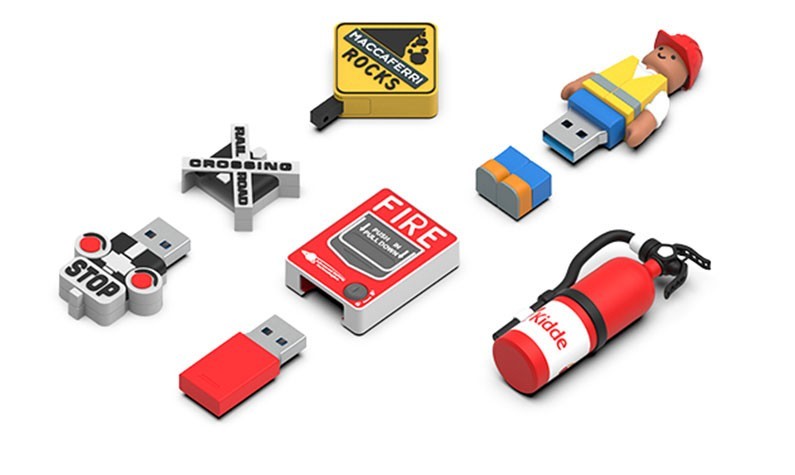 Community Relations
For police departments around the country, community policing isn't just a buzzword. Departments who use this model find themselves in the community, talking to their residents and becoming part of the community. If you do a big National Night Out, Fire Safety Month open house or other community events, consider giving custom USB flash drives to attendees. They are a great way to share information on department policies and procedures, safety planning, and more.
Education
Are you rolling out programs to help educate the community on video surveillance, safety programs, disaster planning, use of force policies or pet protection? USB drives are a great way to get information into resident and business hands. The drives can also include links to websites where they can register pets, link their security cameras into the city's system, and other projects to help improve safety and communication for your police and fire departments.
Employee Training
A good police and fire department knows that well-trained officers and firefighters can often do more than a larger department can with fewer resources. Whatever training you provide, put those PowerPoints, PDFs, videos and links onto a USB drive. That makes it easy for the officer or firefighter to go back later and review their training. If you video tape the training exercises, you can use those videos to train other officers in the future, too.
Examine ideas for your USB flash drives for the public safety industry.
The Takeaway
All kinds of businesses are using USB flash drives to promote their products and their brand. They are practical, effective and memorable. Since they come in all shapes, sizes, and styles, they can complement any of your marketing campaigns, and they can add a little more pizzazz to your efforts. In an era where digital storage is valued highly by consumers, your promotional USB drives will be a hot commodity.